Proud Member of the SBOA
Why Not Sprout?!
4039 Skippack Pike, Skippack, PA
SPECIAL EVENTS!
Mindfulness Meditation – Summer Circles began on Saturday, July 14 at 10:00 am! Join us!

Thinking about starting a Mindfulness Meditation practice?

Want to understand what Mindfulness is all about?
We are encouraging and serving people who are new to mindfulness, meditation - or both. Of course, experienced humans are welcome! Know that we will be covering preliminary and introductory concepts.
Mindfulness meditation offers many proven benefits. A regular practice improves emotional stability and physical wellbeing on a variety of measures. More to the point, this practice helps you slow down – pause – and stay present.
THIS IS YOUR LIFE - BE PRESENT FOR IT.
Attending Mindfulness Meditation Summer Circles will help you...
∞ Delve into the foundations of mindfulness practice
∞ Stay motivated and on-track; integrate mindfulness into your life
∞ Enjoy the quality of energy generated when folks meditate together
∞ Connect with others, create community, and feel held and supported
∞ Nurture and deepen your practice
∞ Each meeting will last ~75-90 minutes
∞ Format-Facilitated & semi-structured, focusing on a different aspect of mindfulness
∞ PLEASE sign up in advance; space is limited; ~12-14 humans at the most
∞ Investment: I would do this for free if I could - and maybe someday I will be able to do that... it is my dream. For now, to keep our doors open we are asking $12 for a single session or 4 sessions for $40 (paid in advance; can use your pass for any 4 sessions throughout the summer. Students 18-25 and those who are Young at Heart (62+) are $10 for a single session or 4 for $34. Feeling crunched? Donate as you are able.
We accept cash or credit cards at the space. You can sign up through the website https://whynotsprout.com/the-calendar/ and select the date you want. Or call 610.222.0700 and leave a message - I'll get back to you as soon as I can!
========================================================================
Partner's Candlelight Meditation – Last chance for the summer!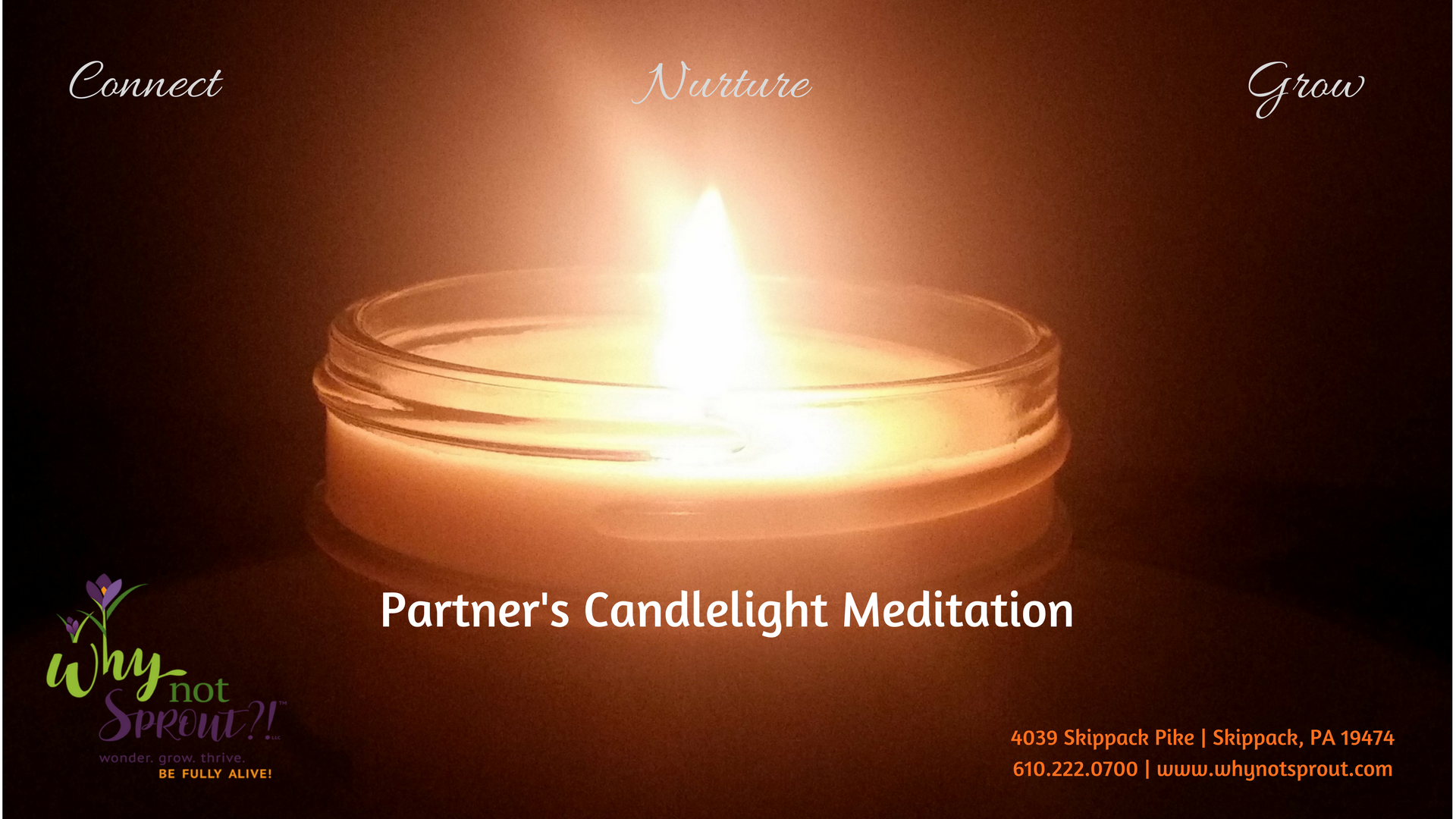 "The most precious gift we can offer anyone is our attention. When mindfulness embraces those we love, they will bloom like flowers." – Thich Nhat Hanh
In our busy life, it is often difficult to create space for quality time with our loved ones. Nurture your connections; grow your relationship.
You will be led on a meditative journey with your partner that will enhance feelings of warmth and closeness … breathing in sync… practicing trust… comforting touch… partner stretching… shared restorative & relaxation yoga poses… and more
We've added new dates!
Notes: Our space is small and intimate; Class size is limited to 6 couples; Dress Comfortably Appropriate for adults 18+
This is your life – BE PRESENT FOR IT!
Call or go online (or click the dates above) to RESERVE YOUR SPACE today!
=======================================================================
Mindful Walking Meditation – RESCHEDULED DATE!
We are rescheduling the walk from August 12 to August 19, due to the thunder storms in the forecast. We apologize for any inconvenience this may cause - your safety is our first consideration. Taking a slow walk through wet grass when there is lightning in the area might result in an unforeseen "transformative" moment :) - Not exactly what we had in mind! Hope to see you on the 19th! Call 610.222.0700 and let us know you are coming so we can plan accordingly!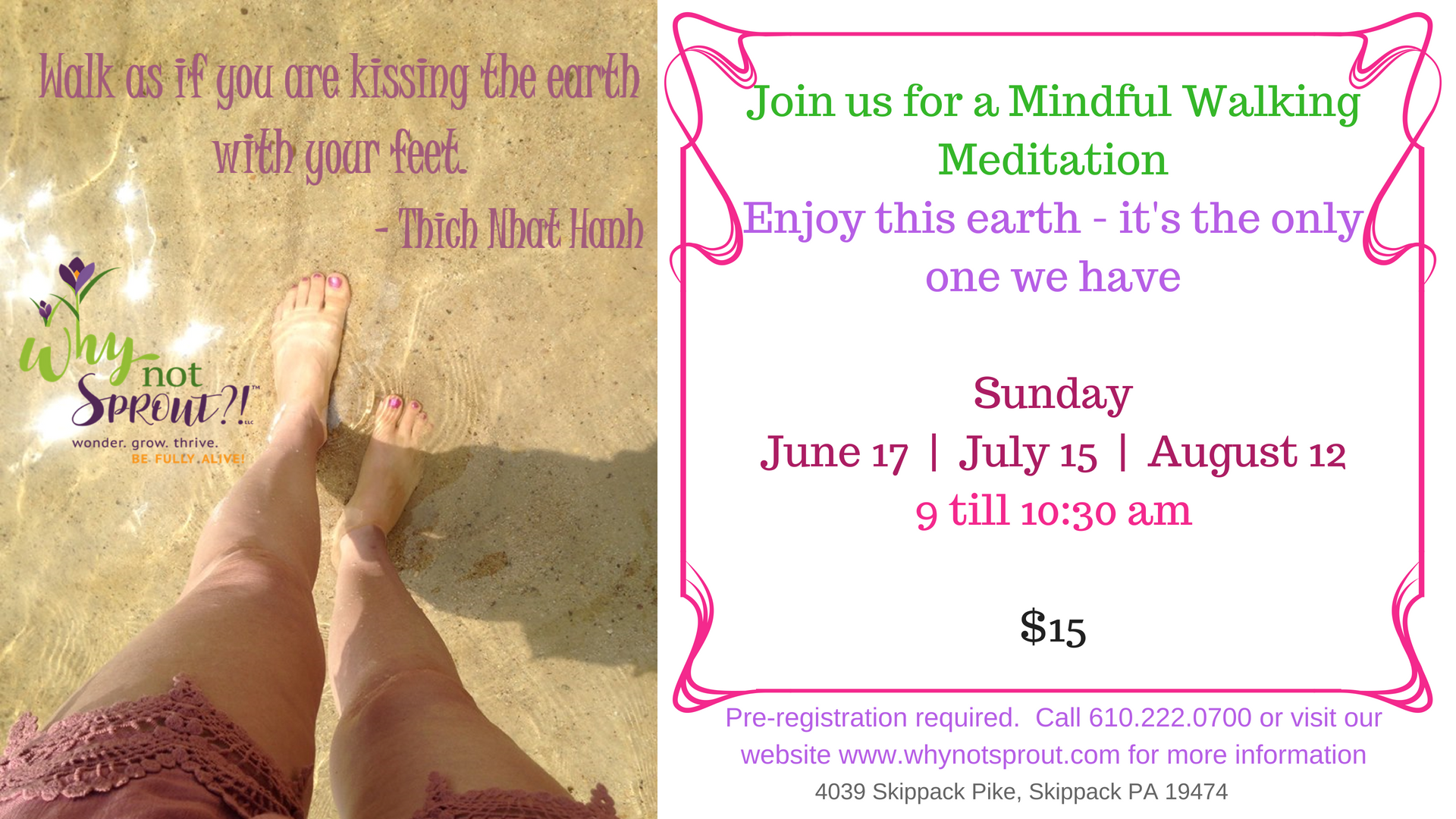 While we may not have sandy beaches in Skippack, the idea is the same!
Join us on Sunday morning, AUGUST 19 as we take a slow, deliberate walk through Skippack (off-road). We'll be walking from Why Not Sprout?! to Church Road Park and back. As we walk, we'll spend time paying attention to everything around us with intention – experiencing the sights, sounds, smells and touch of the earth (and hopefully the sun!). We will be mindful, grateful and appreciative of all that we have, and return to our day refreshed and invigorated. Want to know more? Call Linda at 610.222.0700 or email her at linda@whynotsprout.com. The cost is $15, and you can pay at the door,
We need to know how many humans to expect, so please pre-register. We plan to keep the group to no more than 20 humans who are 18 and older.
========================================================================================
What's Why Not Sprout?! All About?
People are meant to live into their FULL POTENTIAL - to THRIVE, not just survive - regardless of where they are planted. Are you ready to discover what's alive in YOU?
Consider this an invitation to create something new in your life. It's time for you to LIVE VIBRANTLY and SPROUT OUT LOUD! Bring your curiosity, an open mind, and a willingness to grow.
We offer individual and small-group life coaching to support what's STRONG in you, Mindfulness workshops and meditation circles, and other programs designed to help support your "growth spurts," enrich your life and encourage you on your journey. All of our offerings are rooted in positive psychology, interpersonal neurobiology, and compassionate communication.
Appropriate for adults, 18+
---
Our Mission - We will work hard to...
Connect people – to themselves, to others, and to ideas that will help raise them up

Create a welcoming place where people explore their thoughts, "dig around" in their inner garden, weed out what no longer serves them, and identify & nurture what feeds them

Help you slow down and peel back the layers of fast-paced living so that you can live more mindfully
Our Core Beliefs and Philosophies:
We humans are meant to live into our full potential with happiness and contentment; we are inherently worthy of love

You are not a problem to be fixed or an issue to be solved, like a 30-minute sitcom or an hour-long drama; you are a seed to be nurtured and tended with great care and attention

That seed of purpose – of talent – of passion — is already within you, waiting to be born

It's not about changing who you are now, but discovering who you really are deep inside the core of your being – and changing the outside to reflect the inside

New growth is precious, and needs to be held with respect and dignity as it struggles to break through and take root

Transformation is absolutely possible

You CAN change your mind…literally. It is never too late

How you listen and express yourself makes a difference in how you understand and are understood

Connecting in a meaningful way with other humans is necessary – even for us Introverts

A full and meaningful life does not eradicate difficult emotions – instead, when we notice and accept them, learn from them, and integrate them, we grow from them – and they soften their hold on us
Our Promise to You:
You will be met with unconditional positive regard and a non-judgmental mind

All approaches and strategies offered in this practice for growing, thriving and resilience are grounded in theory, supported by research, and supplemented by the scientific study of optimal human functioning (also known as positive psychology)

We will support your growth, offer you options, and help you identify and expand your possibilities; we will not tell you what to do or advise you as to how you "should" live your life. The choice is always yours to make

Whatever you share will be heard compassionately and held in confidence. We respect your privacy and appreciate your openness
Gallery
Hours of Operation
Our hours are largely based on scheduled offerings or by appointment. We usually have "stop in" hours on Saturday afternoons from ~11 till 3 or 4 pm. You may run into me by happy coincidence! I am here most days of the week - you are invited to stop in if a program is not in session (you'll know by the sign on the door :))
Why Not Sprout?!
4039 Skippack Pike
Skippack, PA 19474
(610) 222-0700
Our Events
Partner's Candlelight Meditation
August 17
Mindful Walking Meditation
August 19
Summer Sampler Series - Singing Bowl Meditation
August 19
Summer Sampler Series - Restorative Yoga & Meditation
August 26
Walking Guide
Download the Skippack Village Walking Guide for an easy to use map and directory of all our merchants!
Refine Search