Proud Member of the SBOA
Why Not Sprout?!
4039 Skippack Pike, Skippack, PA
Partner's Candlelight Meditation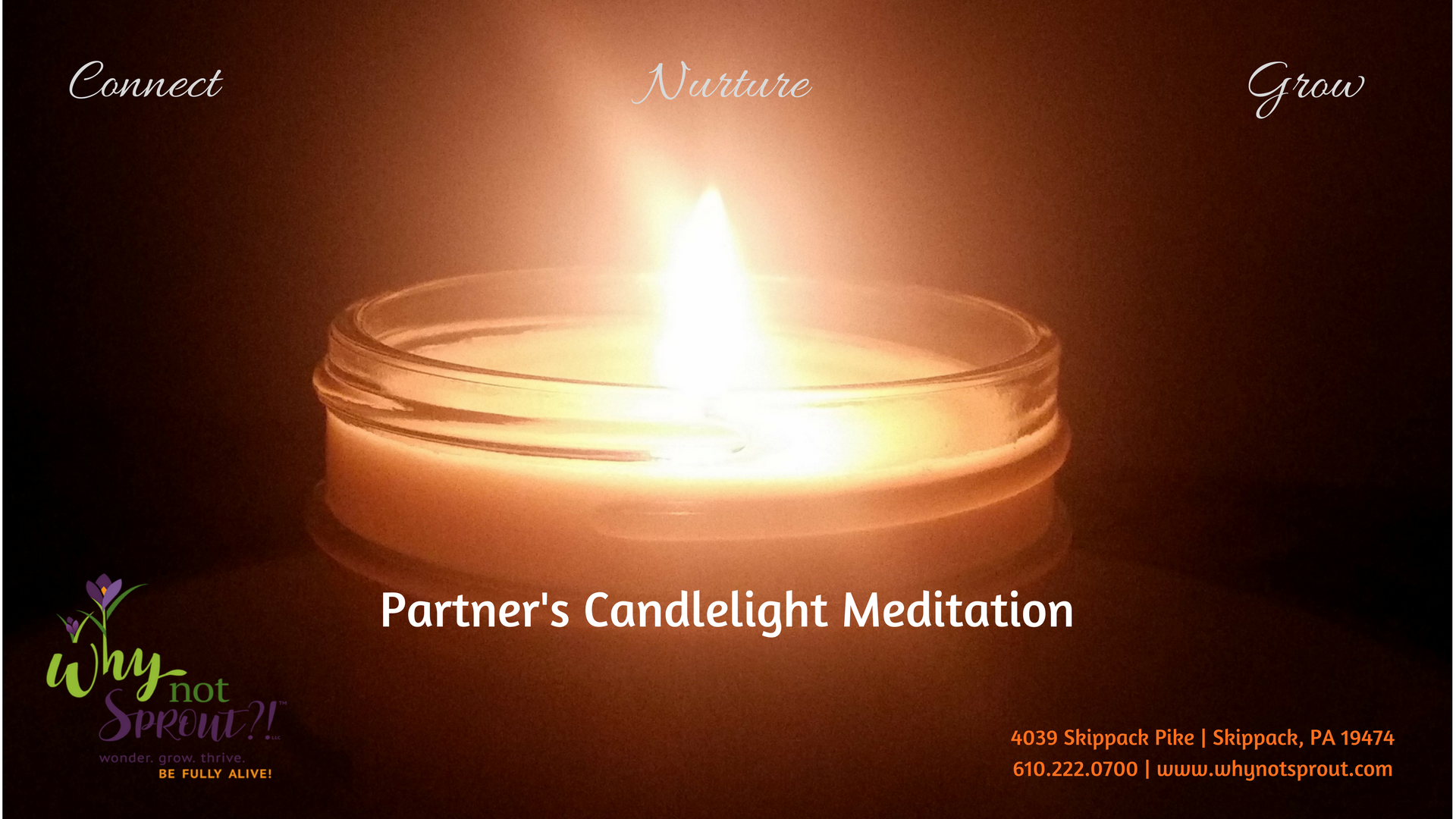 "The most precious gift we can offer anyone is our attention. When mindfulness embraces those we love, they will bloom like flowers." – Thich Nhat Hanh
In our busy life, it is often difficult to create space for quality time with our loved ones. Nurture your connections; grow your relationship.
You will be led on a meditative journey with your partner that will enhance feelings of warmth and closeness … breathing in sync… practicing trust… comforting touch… partner stretching… shared restorative & relaxation yoga poses… and more
Three Friday night opportunities to experience this wonderful practice; Click on the night you want to reserve!
Time: 7:00 pm – 8:30 pm

Cost: $42 per couple per class

(want to sign up for all 3? Call Linda!)
Notes: Our space is small and intimate; Class size is limited to 6 couples; Dress Comfortably Appropriate for adults 18+
This is your life – BE PRESENT FOR IT!
Call or go online to RESERVE YOUR SPACE today!

---
What's Why Not Sprout?! All About?
People are meant to live into their FULL POTENTIAL - to THRIVE, not just survive - regardless of where they are planted. Are you ready to discover what's alive in YOU?
Consider this an invitation to create something new in your life. It's time for you to LIVE VIBRANTLY and SPROUT OUT LOUD! Bring your curiosity, an open mind, and a willingness to grow.
We offer a variety of small-group experiences and individual Strengths & Values coaching – all designed to help support your "growth spurts." Our programs include one-hour "Mindfulness You Can Use" workshops, opportunities to explore and enjoy meditation and contemplative Yoga practices, one-on-one coaching to help you uncover what is strong in you, and longer, more thought-provoking programs to enrich your life and encourage you on your journey. All of our offerings are rooted in positive psychology, interpersonal neurobiology, and compassionate communication.
Appropriate for adults, 18+
---
Our Mission - We will work hard to...
Connect people – to themselves, to others, and to ideas that will help raise them up

Create a welcoming place where people explore their thoughts, "dig around" in their inner garden, weed out what no longer serves them, and identify & nurture what feeds them

Help you slow down and peel back the layers of fast-paced living so that you can live more mindfully
Our Core Beliefs and Philosophies:
We humans are meant to live into our full potential with happiness and contentment; we are inherently worthy of love

You are not a problem to be fixed or an issue to be solved, like a 30-minute sitcom or an hour-long drama; you are a seed to be nurtured and tended with great care and attention

That seed of purpose – of talent – of passion — is already within you, waiting to be born

It's not about changing who you are now, but discovering who you really are deep inside the core of your being – and changing the outside to reflect the inside

New growth is precious, and needs to be held with respect and dignity as it struggles to break through and take root

Transformation is absolutely possible

You CAN change your mind…literally. It is never too late

How you listen and express yourself makes a difference in how you understand and are understood

Connecting in a meaningful way with other humans is necessary – even for us Introverts

A full and meaningful life does not eradicate difficult emotions – instead, when we notice and accept them, learn from them, and integrate them, we grow from them – and they soften their hold on us
Our Promise to You:
You will be met with unconditional positive regard and a non-judgmental mind

All approaches and strategies offered in this practice for growing, thriving and resilience are grounded in theory, supported by research, and supplemented by the scientific study of optimal human functioning (also known as positive psychology)

We will support your growth, offer you options, and help you identify and expand your possibilities; we will not tell you what to do or advise you as to how you "should" live your life. The choice is always yours to make

Whatever you share will be heard compassionately and held in confidence. We respect your privacy and appreciate your openness
Gallery
Hours of Operation
Our hours are largely based on scheduled offerings or by appointment. We usually have "stop in" hours on Saturday afternoons from ~11 till 3 or 4 pm. You may run into me by happy coincidence! I am here most days of the week - you are invited to stop in if a program is not in session (you'll know by the sign on the door :))
Why Not Sprout?!
4039 Skippack Pike
Skippack, PA 19474
(610) 222-0700
Our Events
Partner's Candlelight Meditation
June 15
Walking Guide
Download the Skippack Village Walking Guide for an easy to use map and directory of all our merchants!
Refine Search